Have you wondered what you can do for a team building event for your corporation, small business, students, church group and more?? Well here is something you can do, and it would be fun for everyone. You don't need be an athlete or in shape to do it. You just need to want to have fun and work together.
TEAM BUILDING OBSTACLE CHALLENGES
Whether you are working for company, coaching athletes from schools or clubs, belong to a church organization and the like, learning how to work together is very important. It creates unity, better production, cohesiveness, lasting friendships, a winning mindset, and opens your mind up to new possibilities when working together.
With the Team Building Obstacle Challenges, you and your organization will have a chance to work together to go through several obstacles and challenges on a designated pathway designed just for your group. You will decide on what you would like to do with your group and we will make it happen. You can do a short obstacle course for a smaller area or make it a big one, for a much larger area.
WHAT CAN BE INCLUDED:
-100-300 FOOT SLIP AN SLIDE
-6 FOOT CLIMBING WALLS
-VARIOUS SIZED AND LENGTH BALANCE BEAMS
-3 FOOT HURDLES
-CRAWLING TUNNELS
-OUT FAMOUS 10 FOOT PYRAMID WALL
-INFLATABLE PYRAMID
-INFLATABLE OBSTACLE COURSE
-INFLATABLE 12 FOOT POOL
-THE GRIP WALL
-COLOR(YES COLOR-LIKE THE COLOR RUN)
-MUD PIT(DEPENDS ON LOCATION)
-EATING CHALLENGES
-DRINKING CHALLENGES(NON ALCOHOLIC)
-FITNESS CHALLENGES
-AND A LOT MORE CAN BE DONE
This is a great event for your organization, to bring you all together.
HOW THIS WORKS: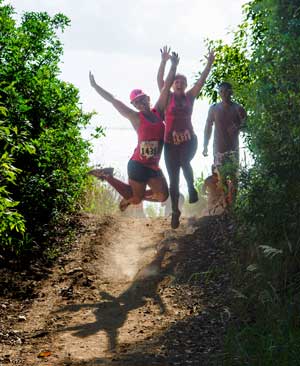 -Decide what your looking for with your group. Do you want a short fun thing to do, with easy set up and smaller area? Or do you want something bigger within a moderate to large area(this may take a little time to set up).
-After deciding what your looking for, the next thing is the location. This is where you must secure and get a permit for an area and date for this to all happen and letting the entities know what you want to do for your group. We can provide insurance and assist in securing a location.
-Once site is solidified, we will map out a course for you and get your approval. Once approved, then we will finalize the obstacles and challenges you want. Once you approve this, we will move forward.
-Depending on the size of the event, we would need at least one full day to set-up. So you must have that on the permit. If it's a smaller event, that's in the afternoon, we can set up in the morning.
-We would set up the event, monitor some of the major areas and challengers, and then breakdown after the event.
FEES:
Fees cover the planning of event, hauling of equipment and obstacles, setting up all obstacles, monitoring some of the obstacles during event, breakdown of event, and securing insurance.
**Small venue with few obstacles and challenges-$1750
**Medium venue with more obstacles and challenges-$3,000
**Large venue with THE WORKS!!!-$5,000+