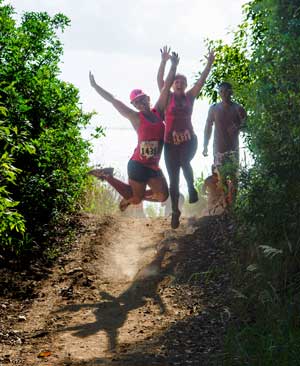 The Virtual Maui New Years 5k Run/Walk. This is a virtual New Years 5k Run or Walk that can be done anywhere you feel inspired to run or walk. The main thing is to get out and be active for the new year. Once completed, send in your result(i.e. time, distance, and if you want, a picture so we can post).
With your registration and completion, you will recieve a special New Years race bib and a special finishers medal commemorating the New Year, with that Maui Aloha flare to it. We wish you were here in Maui with us, but if your living off island, it's ok. We still send Aloha. If you do live on Maui, then get out and start the New Year off right, either on your own or with love ones. Lets get healthy together.
You have from January 1st to January 31st to complete your 5k event. Again, just send us your result, and we will send you out your bib and medal.
Runners Paradise thanks you for your continued support all these years and hope to see you soon in a live event here on the beautiful island of Maui.
The Virtual Surf to Surf Marathon & Half Marathon Maui is a virtual event that will be live once Covid restrictions are lifted on the Island of Maui. Live dates will not be during the current virtual dates. This event takes you from the famous and beautiful surf beach of Hookipa, in Paia, and ventures through central Maui, to the awesome and spectacular Makena Beach, on the south side, just past Kihei. The course is 90% flat , and like the event name, goes from one surf beach to another. Course map below.
You can start on February 1st and the last day to complete your race is March 31st. After you complete your race, send proof of completion to with date and distance and time it took. After receiving, we will send you your medal and event bib.
If you live here on Maui, the start line will be across the street from Hookipa. There will be a pink S painted on the pavement signifying where you start. If you wish to start at Makena Beach instead, then you can start at the Makena Beach yellow gate. Either start line is fine.
The midway point of the marathon is on highway 311, a half mile north of Kealia Pond National Wildlife refuge(on the bike path). A pink M will be painted on the bike path. If you wish to start their, to do the half marathon, you can as well. Any start point is fine, as long as the distance is completed.
If you are running this event and are not living on Maui, then it's up to you to determine where your start and finish wil be and just submit it to us.
Please look at our website for the course map if you are doing the course on Maui.
Remember, once we recieve the result, then a medal and bib will be mailed out ASAP. If you like, send us a finish pic and we can post on our website.
Ho'okipa Beach Park or to Makena Beach Park. Or do it in reverse.